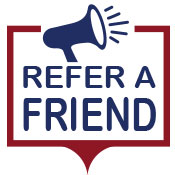 Invite a friend and earn cash! If your friend comes aboard the QS team, you'll split the bonus 50/50 so it's a win-win!
$1000 for an RN once they work 160 hours. $500 for you, $500 for them! 
$400 for an LPN once they work 160 hours. $200 for you, $200 for them! 
$100 for a CNA/CMA once they work 160 hours. $50 for you, $50 for them! 
Terms and Conditions
We must have your name as the referral source upon hire. The referred employee must not have previously worked for QS and must perform 160 hours of billable service for QS (cancel pay, on-call and orientation do not count) for you to receive your bonus. The 160 hours must be achieved within 12 months from their hire date for payment. Team Member bonuses will only be paid to active status employees of QS who perform billable services. QS reserves the right to modify or eliminate this program at any time.
Referral Program